Kettlebell Kings Cast Iron Kettlebell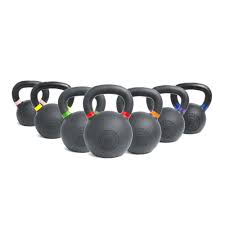 Kettlebell Kings Cast Iron Kettlebell
LIFETIME WARRANTY, no one else offers a lifetime warranty on their cast iron kettlebells
SMOOTH FINISH, Pay close attention to the finish when comparing to images of others, specifically how rough the finish looks and if there is the appearance of a seam. Casting a kettlebell leaves a seam or sharp rise across the middle of the underside of the handle. This seam needs to be filed down before the kettlebell is finished. Some companies do not remove this sharp seam and this can carve up your hand. Kettlebell Kings Kettlebells have a smoother finish because our casting process creates a smoother surface and imperfections are moved before applying the paint. Having a smooth finish protects your hands, wrists and forearms.
DESIGNED, with longer surface area on top to grip during high repetition kettlebell swings, Other kettlebells are more round at the top and do not fit both hands for kettlebell swings
FAST, SAFE SHIPPING,We ship all kettlebells for free, the same day we receive the order before 5 PM central. We triple box each kettlebell along with styrofoam inserts so it arrives in pristine condition
SINGLE CAST, Made from a single piece of cast iron. Most kettlebells have the handles welded on which makes them break easier. Casting from a single piece of metal gives more durability to the kettlebell
GRAVITY CAST, The most precise way to create a kettlebell mold. Gravity casting casts the iron to the specific weight you are creating. If a kettlebell is not gravity cast you risk not accurately casting the kettlebell to the same weight and dimensions as the mold ages.
SMOOTH FINISH, No Welds, Weak Spots, Seams or Burrs which tear up your skin during workouts on poorly cast kettlebells
FLAT BASE, for easy storage and handling
* Shipping included!!